Students hit the Earth Summit in New York, New York!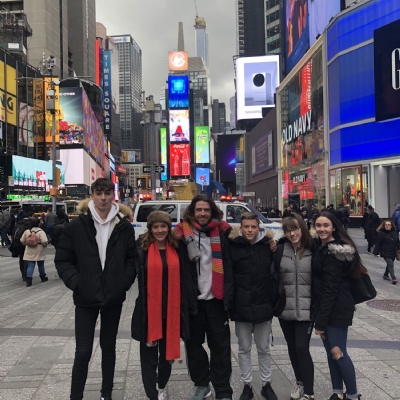 After advertising for young leaders who have taken an interest in sustainable living, Mr Gladwin and Miss Banks were delighted to take four of our Year 10's on the trip of a lifetime to attend the Earth Summit in New York, USA!
Here's Mr Gladwin's account of their amazing week:
Leaving Heathrow in the early hours of Friday morning, we were afforded the opportunity of a full day exploring New York. A much needed early night was in order as we booked ourselves in to see the incredibly emotional and beautiful memorial Ground Zero. A spectacular tribute to those who lost their lives in the 9/11 tragedy. Seeing all of the names of those people who had lost their lives in the three separate incidents was moving enough, but to find out a flower is placed upon the name of someone who should have been celebrating their birthday that day was truly overwhelming. We counted 7 flowers. After recomposing ourselves we walked along for a ferry trip to see the Statue of Liberty where Eidan gave me a history lesson of where the statue had been built (France) and then a science lesson "That used to be copper coloured, but it has oxidised to turn green!" Ellis Island followed and then on to the Rockefeller Centre.
A cab ride back to JFK airport occured on Sunday, just after a visit to Central Park. Adjacent to Central Park is the Plaza Hotel, famous for.... Home Alone. A jubilant Mitchell and Miss Banks could not wait to get inside to see if it was the same as the movies.
We picked up one of the biggest trucks you will ever see to squeeze the four students, two adults and their suitcases in. Driving on the 'wrong' side of the road in a massive car had its challenges, but after getting used to it, safety re-appeared! Unfortunately, neither adult could follow a satnav and Amy and Mitchell had to do most of the directing.
We met our homestay families on Sunday afternoon, Sian, unsurprisingly, being the most excited person ever to meet some new people! Our students stayed for three nights, including Superbowl night with their host families and, each and every family said what an absolute pleasure the four of them are. They all said they will miss them and there were certainly some tears upon our departure from them. I'm sure our young people have made friends for life and we hope to be able to welcome them over to our shores one day.
After the fun and excitement of the cultural aspect of the trip, it was time to get down to work. We spent Wednesday at the impressive Omega Institute, which is one of the few buildings and plots of land that has been built, entirely of local and reused materials and is 100% powered by sustainable energy sources (wind, light and water). They believe that every environmental issue finds its way back to water, so they have made it their purpose to ensure that waste water is cleaned and then reused, without chemicals both on their site and in the surrounding areas.
From there we embarked on a long drive to the Ashokan Centre on the side of the beautiful Hudson River. In this outreach centre our students met two other English schools (Norfolk and Cornwall) a Swedish school from Trelleborg and then 32 schools from around America.
During the three days of the summit, it was an honour to listen to Dr Jim Hudson, a lead scientist who was formerly the Director of NASA, and Jeffery Sachs, who gave a Skype interview after his meeting at the Vatican with Pope Francis. Intertwined with these established scientific leaders were presentations from Birch Kinsey, Jaysa Mellers and Scout Pronto Breslin, all slightly younger versions of Greta Thunberg.
It was a trip of a lifetime, not just for the students, but for myself and Miss Banks. We have learnt so much culturally, but also about how we can be more sustainable. Look out for some big changes the students are looking to implement soon! This opportunity would not have been made possible if it were not for the backing of the British Council, Harlow Council and Ben Marston of Jestico & Whiles - we cannot thank them enough.