Working from Home
We will be using Show My Homework to communicate work to be done each lesson. Here is a plan for a successful day's home learning:
Support materials and work are also stored for you in the link below, in case a link ever does not work or you need to see older material.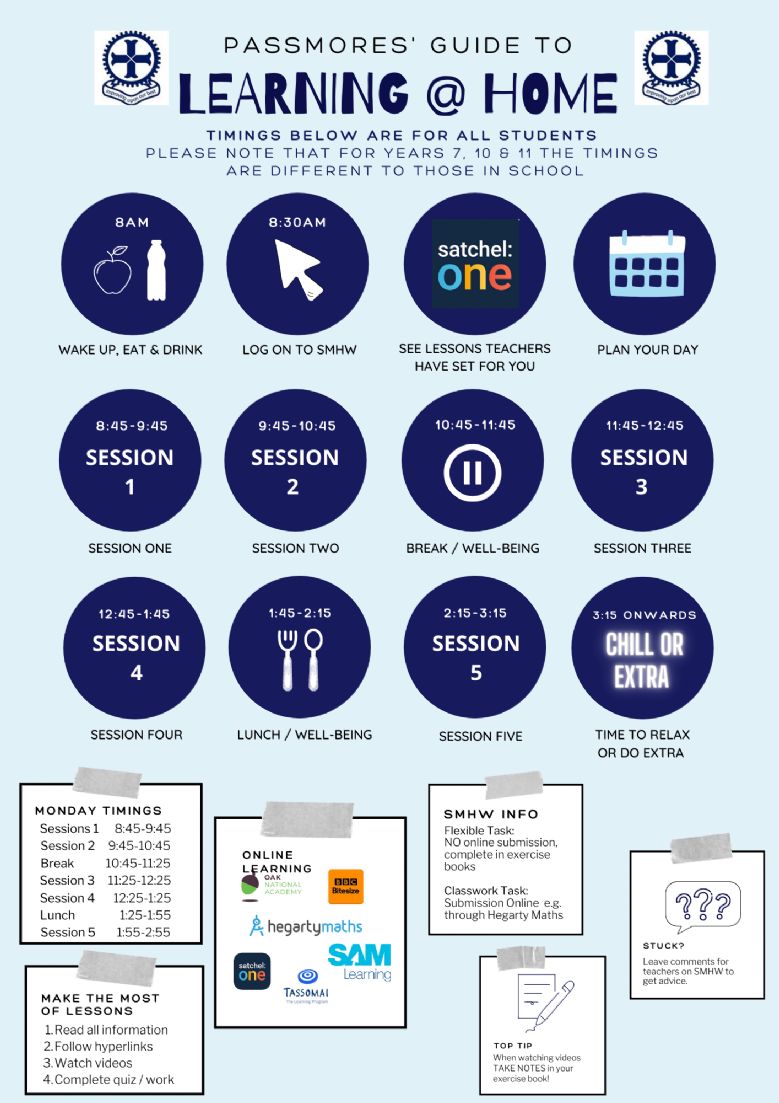 If you manage to get through all of this then you can use the packs issued from previous lock-downs. Simply select your year and complete as many tasks as you can.
If you find it difficult to complete all of the work set, then complete work for an hour and let your teacher know that you are not managing to complete it - they will help you.
You may also find it useful to explore the Oak National Academy, which is a website set up by the government to allow students to learn and work independently when they are not in school. To access this, please click on https://www.thenational.academy/ and then go to the "Pupils" section and click the "Lessons" button.
You will be able to select the Key Stage (Key Stage 3 is for Year 7 and 8, Key Stage 4 is for Years 9,10 and 11) followed by the subject you want to work on. You should watch the videos and then attempt the quiz to test yourself. It is worth keeping a note of the sections you have completed. If you are uncertain what to work on, please look at the work you were doing in class and search for that topic. If this is not clear, you could contact your teacher on SMHW to ask them what topic you are missing whilst you are not in school.
The Oak Academy website is also really useful if you are trying to sharpen up your skills or increase your knowledge in an area where you know you need a little more work. You should feel free to be independent and make your learning choices work for you!
(Thank you to Phoenix Education and PiXL for some of the resources contained in our learning packs)